We are dedicated to nurturing the highest standards of skill and integrity.
Line Finders is a utility locating and hydro-vac excavation services provider focusing on select oil and gas basins in the Rocky Mountains region of the U.S. We combine up-to-date locating equipment with years of knowledge, skill and experience that allows us to offer customers safe, accurate and cost effective locating services and prevent subsurface damage.
Utility Locating is the process of identifying and labeling underground utilities to help make excavations safer. These utilities may include lines for telephones, electricity distribution, natural gas, oil, cable television, fiber optics, traffic lights, street lights, storm drains, water mains and wastewater pipes.
For high visibility and easy identification of underground utility lines, the Carsonite Utility Marker is the perfect choice. The Carsonite marker flexes when impacted and returns to its original position and is virtually impossible to remove without proper equipment. These permanently pigmented markers have factory applied decals that provide the most visible identification of buried utility lines, day or night.
Vacuum Excavation is the process of using pressurized water (hydro-vac) or compressed air (air-vac) and a vacuum source to safely loosen and remove soil/spoils. The vacuum excavation process reduces the potential damage to the underground infrastructure while increasing the productive rate of excavation where utilities may be buried.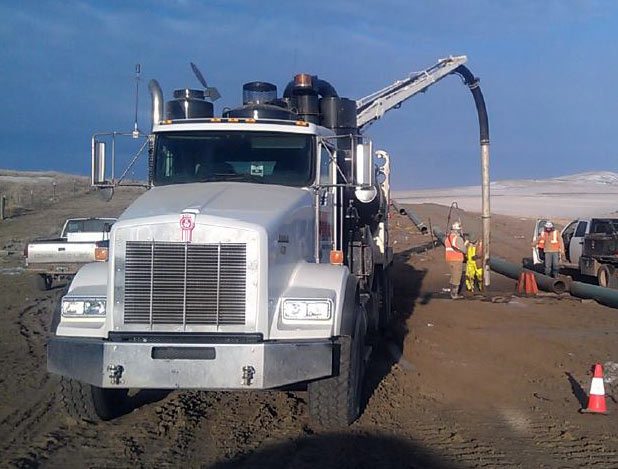 Often times, utility companies do not have the man power or prior knowledge of an excavation in order to have personnel onsite. With our highly skilled onsite team, the utility company will know exactly where the crossing was performed and that all lines were accounted for prior to excavation. Any policies or procedures the utility company may have regarding the exposure of lines can and will be enforced during the excavation.
Our state of the art Utility & GIS Mapping software allows us to visualize where a utility company's facilities are in relation to geographical features such as streets, county and legal boundaries. Based on the map, we create utility notification grids and buffer zones.
Career Opportunities
Line Finders is seeking applicants in various positions. We offer competitive wages, benefits and retirement plans that include company contributions. Check our Careers page to see the different careers and available jobs and apply online.