From Utility Locating to Site Supervision, Line Finders has the experience, skill and technology to offer customers safe, accurate and cost effective locating services.
Utility Locating
Utility locating is the process of identifying and labeling underground utilities to help make excavations safer.
Utilities may include lines for telephones, electricity distribution, natural gas, oil, cable television, fiber optics, traffic lights, street lights, storm drains, water mains and wastewater pipes.
Because of the many different types of materials that go into manufacturing each different type of utilities, we use numerous detection and location methods. 
For metal pipes and cables or other conductive materials, this is often done with electromagnetic equipment consisting of a transmitter and a receiver. For non-conductive types of pipe, such as poly and fiberglass, Line Finders offers a Vacuum Excavation Service to safely expose the utilities.
Location by these means is necessary because maps often lack the pinpoint precision needed to ensure proper clearance. In older areas, it is especially a problem since maps may be inaccurate, or may be missing entirely.
Our Underground Utility Locating Services includes:
Locate underground utilities using technological locating equipment
Customized pin flags, marker paint, marking whiskers* or wood lathes*
GPS Coordinates of location
Weather-proof copy of Sketch Sheet left at location on white/black pin flag
Line crossing notification (24-hour advanced notice if requested)
Vehicle and equipment usage
Digital copy of Sketch Sheet, with details and pictures, provided upon invoicing
Immediate notification of mapping or One-Call Database discrepancies
(*Available upon request for an additional fee.)
Carsonite Utility Markers
For high visibility and easy identification of underground utility lines, the carsonite utility marker is the perfect choice.
The Carsonite marker flexes when impacted and returns to its original position and is virtually impossible to remove without proper equipment. In addition, the marker will survive multiple gunshots, being run over by a vehicle or rubbed on by livestock without significant loss of legibility or damage to structure. These permanently pigmented markers have factory applied decals that provide the most visible identification of buried utility lines, day or night.
Our Carsonite Utility Marker Installation Service includes:
Printed graphic (indicating type of utility and emergency contact information)
Labor (installed 12-16" deep and within line-of- site)
Detailed installation report
Vehicle, ATV and equipment usage costs
Vacuum Excavation
Vacuum excavation is the process of using pressurized water (hydro-vac) or compressed air (air-vac) and a vacuum source to safely loosen and remove soil/spoils.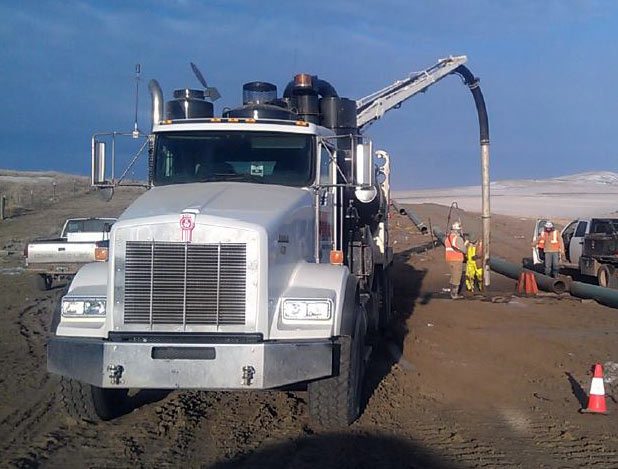 The vacuum excavation process reduces the potential damage to the underground infrastructure while increasing the productive rate of excavation where utilities may be buried.
Help avoid line strikes
As the underground infrastructure is becoming increasingly crowded, underground utilities could be almost anywhere. Even isolated areas that seem remote may conceal major gas or telecommunication lines. Many contractors decide to accept that the risk of strikes cannot be avoided, or it just costs too much. There is a safer and more productive way to address these risks as an integral part of your safety program by including Vacuum Excavation with either Hydro Excavation or Air Excavation.
Vacuum Excavation has a wide range of applications
Slot Trenching
Safely Expose Utilities
Daylight Utilities (pothole)
Limited Access Areas
Pit Cleanouts
Tank Cleanouts
Expose Multiple Lines
Low / Now Water Usage
Minimal Disruption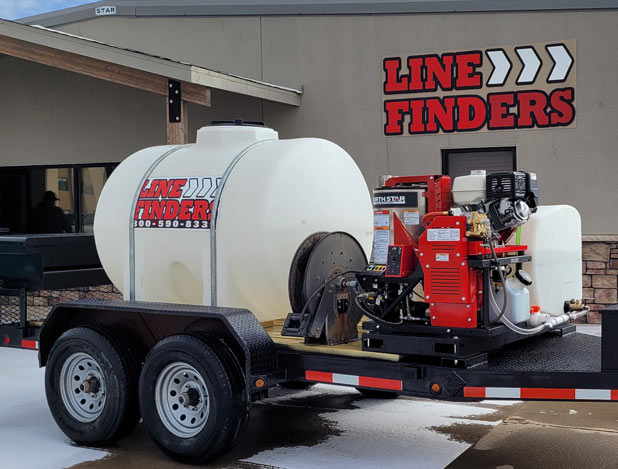 We use a portable skid‐mount pressure washer unit
Our hydrovac services include a portable pressure washer which offers up to 3000 PSI and provides 250º hot water. It can be used for:
Washing out/down external surfaces of rigs, compressors, tanks, well heads, etc.
Heavy equipment washes
Assisting hydrovac trucks (as an add‐on service)
Residential & commercial buildings exterior washes
Driveways & parking lots
Light duty Jetting services (for hotels, restaurants, businesses, plumbing companies)
Site Supervision
Coupling our Excavation Supervision Service with the Utility Locating Services ensures the integrity of underground utilities is kept while being exposed by a third-party contractor.
Often times, utility companies do not have the man power or prior knowledge of an excavation in order to have personnel onsite. With our highly skilled onsite team, the utility company will know exactly where the crossing was performed and that all lines were accounted for prior to excavation. Any policies or procedures the utility company may have regarding the exposure of lines can and will be enforced during the excavation.
Direct costs of a line strike include:
Serious injury or death
Site repair costs, lost labor, equipment damage, fines
Disruption of the utility service from the strike
Indirect costs of a line strike often include:
Loss of resources, time from reporting accidents and ensuing investigation
Increased insurance costs and/or legal fees
Damage to a company's reputation, lost revenues and decreased employee morale
Our Excavation Supervision Service includes:
Relocate / remark prior to excavation
Prior notification if electrical lines present for de-energizing (lock-out/tag-out)
Onsite supervision of all aspects of excavation
Coordinates of location (Crossroads, GPS, Township, Range, Section)
Detailed pictures (pre-excavation, during excavation and post-excavation)
Completed excavation form (signed by excavator)
Completed sketch sheet (signed by excavator)
Vehicle and equipment usage cost
Utility Database & GIS Mapping
With utility database & GIS mapping we can help your company integrate a new utility infrastructure or update/revamp an existing infrastructure into the One-Call Database.
Our state of the art mapping software allows us to visualize where a utility company's facilities are in relation to geographical features such as streets, county and legal boundaries. Based on the map, we create utility notification grids and buffer zones. This information is then submitted digitally to One-Call which allows for a much faster input process and makes future database maintenance quick and accurate.
Our personnel in the field report any issues that may arise within your notification area. Any accuracy issues that may arise in the future are also resolved in a very timely manner.